About our Team
Travis and his team take customer service very seriously. Together, they are committed to providing exceptional customer service to all of their clients.
If you need to schedule an appointment, have investment and planning questions, make changes to your policy, submit a claim or request any other service, please let them know. They will respond promptly.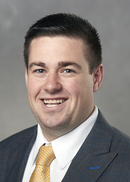 Samuel C Heilshorn
Sam is a graduate of The Ohio State University with a degree in Consumer and Family Financial Services. He focuses his efforts on designing financial plans and servicing client needs in both the insurance and investment arena. Sam is also involved with our Social Committee.
Sam is a big fan of The Ohio State Buckeyes and all Detroit sports. He is orignially from Northwestern Ohio. Sam is an avid golfer and especially enjoys watching the Masters ever year. It is on his bucket list to go down to Augusta sometime soon.
Beverly G Derouaux
Associate Financial Representative
Office 614-221-5287

Beverly has over a decade of service with Northwestern Mutual. She focuses her time on connecting with clients either to schedule appointments, gather data, or simply to check-in. Bev is actively involved with our Community Outreach Committee. She is passionate about raising money and awarness around the Alex's Lemonade Stand Foundation and childhood cancer research.
In her free time, Bev enjoys spending time with her two sons Travis and Evan, as well as her daughter-in-law Kelsie. She especially likes to spend time with her granddaughter Rylie. Bev has a beagle named Maggie. She also likes to watch modified dirt track racing and attends at least one race every year.